THE EASTER RESURRECTION PLAY
"Shalom Aleichem Ha Shem Yeshua Ha Meshia…"
"Peace to you in the name of Jesus my Messiah..."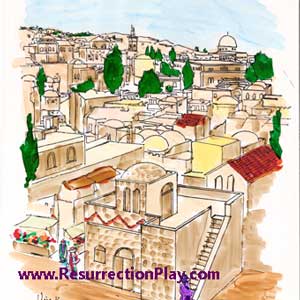 Before the last supper, the agony in the garden at Gethsemane, the trial, the scourging, the crucifixion, death and resurrection of Jesus… Come take an incredible journey to Biblical times to experience Jesus in His last days on earth!
In this one of a kind music drama, experience the Easter Resurrection story of Jesus Christ, as seen through the eyes of a rabbi in training.  The Rabbi sees the problems in the Jewish orthodoxy of the day, and ponders the miracles of Jesus, even though his teachers ridicule him.
Gradually, he becomes a believer in Jesus as the Messiah.
Because a Jew who accepts Yeshua (Jesus) as his Meshiach (Messiah) is called a completed Jew (still Jewish, but now his faith is complete), this play is sub-titled: "The Complete Rabbi."
FEATURES -- How Easily This Easter Play Can Be Presented
PRESENTED IN READER'S THEATER STYLE
This is a drama art form which makes the audience a part of the program itself (We show you how with a staging document)
NOTHING DISTRACTS FROM THE MESSAGE
Minimum costumes and scenery but message not minimized. (More elaborate scenery & costumes can be used)
FEW KEY PLAYERS NEED TO MEMORIZE THEIR SCRIPTS
The rest of the participants sing or read their scripts or have only a few easy lines to say
A GREAT PLAY FOR EASTER!
The combination of music and drama presentation is sure to please your audience.
Why This Play
Why This Play Was Created
The Easter Resurrection play is a perfect presentation for Good Friday, Holy Week or even on Easter Sunday. The total presentation causes you to think reflectively on the message it presents.
Christians, worldwide, celebrate the resurrection of Jesus Christ on Easter day (or as some prefer to call it, Resurrection Day). There's something really wonderful about the various music that has been written for the celebration of Easter. Every church has a few members who need edification about who this Jesus person is, and most of us can use the reminder of how great He is. What better way to edify Christ's church than with a story that captures their imagination along with all the beauty of resurrection music?
Easter Sunday is observed in churches worldwide. Easter sermons usually speak of verses from the Bible associated with the resurrection of Jesus Christ, retelling the story of the death and resurrection of Jesus as he sacrifices his life for the good of mankind. While this story has been told hundreds of times at churches, it still gives people the hope they need in times of trouble and despair.
So here's an Easter Resurrection Play with a story-line that is scripturally-accurate, with a composite story line woven in – lending it a human interest as well as a closer look at some of the religious practices of the day with which Jesus had so much conflict. Great resurrection music is interspersed throughout to help tell the story. All of it is presented in a manner that is entertaining while encouraging spiritual growth and providing great teaching and evangelism opportunities.
Written with smart code Consulting Pro automatically changes the site layout to fit your device. So whatever device you're using, your site will always look great!
100% mobile ready! Look great on all devices, everything from mobiles to desktops!
Create an online shop right fast! Consulting Pro has specific options just for WooCommerce, making it even easier to customize your shop.
Consulting Pro takes WooCommerce to the next level with it's powerful custom options!
Get started with our 1 click demo installer. Add the demo content then edit it for you needs. Simple!
It really couldn't be easier. Simply hit the button and sit back and relax. The installer does all the work!
EASTER RESURRECTION PLAY VIDEO
Add videos from your favorite websites, including YouTube and Vimeo. Simply add the link to your video using the awesome page builder module and we'll take care of the rest. The video will even be responsive so will change size depending on the device you're using. Create amazing layouts in seconds. Simply add a row and start adding your content. No need to ever code again with our amazing drag & drop page builder.
AWESOME GIVEAWAYS!
Consulting Pro is perfect for every user. Whether you're new to WordPress or an experienced developer you'll love what this theme has to offer. With our easy to use theme options panel and page builder building website has never been more fun!
Here's some of the amazing features that come with Consulting Pro.
Dedicated Support

Unlimited Colors

600+ Google Fonts

Parallax Effects

Page Sliders
Responsive Layout

4 Header Layouts

Video Backgrounds

100+ Shortcodes

HD Ready
Page Builder

WooCommerce Ready

Animation Effects

Demo Content

Remove Branding
Choose from 100+ shortcodes to add the final touches to your website. So easy to add to your content using the ThinkUpShortcodes button.
So many to choose from, tabs, toggles, sliders, notifications and so much more!
Before the last supper, the agony in the garden at Gethsemane, the trial, the scourging, the crucifixion, death and resurrection of Jesus… Come take an incredible journey to Biblical times to experience Jesus in His last days on earth!
THE EASTER RESURRECTION PLAY
ADD A STUNNING CALL TO ACTION TO YOUR SITE, JUST LIKE THIS ONE